WHEN REGISTERING USE THE SPECIAL DISCOUNT CODE GRISANTI10 and get 10% OFF
MY CLASS
2:00 pm – 3:30 pm
Academy 4
A good story and smart characters are only part of the equation to impress the powerful people who buy TV pilots. In this invaluable session, unlock the mysteries behind the…
JESSICA'S CLASS
Also, I recommend going to see Jessica Sitomer's class:
6:00 pm – 7:30 pm
Vine A/B
Are you nervous about pitching?  Meeting others?  How do you make real connections to others to help further your career, particularly if you are shy, socially awkward, or petrified of…
KATHIE, PAMELA AND CHRIS'S CLASS
I also recommend the Pitching Clinic with Kathie Fong Yoneda, Pamela Jaye Smith and Chris Soth
9:00 am – 10:30 am
Academy 1 (room)
Practice your pitch on our panel of professionals.  Our Pitch Pros are established industry professionals ready to whip your pitch into polished perfection through feedback and advice.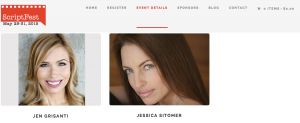 About Us
The Great American PitchFest: BY Writers, FOR Writers
"…Without your Pitchfest the film business is like a building without any doors."
– Lynn Ivall, Screenwriter
ScriptFest and the Great American PitchFest were created by writers, for writers – just like you.  The event started in Canada with the first Great Canadian PitchFest in 2003.  Twelve years later, the event has expanded to Los Angeles, California and London, England, and has helped thousands of writers from around the globe to connect with industry decision makers.
As writers ourselves, we created an event that we would want to attend.  Every year, our lineup of speakers and guest panelists gets bigger and better.  More companies than ever will hear pitches at this year's Great American PitchFest.  For the first time ever, there will be pitching on Saturday AND Sunday during the event.
ScriptFest and the Great American PitchFest was started as a way to help other writers move their careers forward, and make 'finding the door' just a little bit easier.  Writers who attend our event have been hired for writing assignments, signed with agents or managers, and had their screenplays optioned.  This is a business about relationships, and thousands of writers started those relationships and their careers at the Great American PitchFest.
The Great American PitchFest is organized by a group of writers and producers dedicated to helping others to make the connections they need to get their scripts and projects produced. This entire event is yours as much as it is ours, so please share your experiences with us and help to make it the best it can be. If there is a particular company you want to pitch to, let us know and we'll invite them to attend. If there are classes you would like to take, we'll add them to our lineup.  Tell us your thoughts and email us at info@pitchest.com.