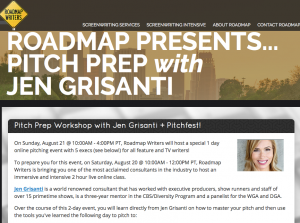 ROADMAP PRESENTS…
PITCH PREP with
JEN GRISANTI
On Sunday, August 21 @ 10:00AM – 4:00PM PT, Roadmap Writers will host a special 1 day online pitching event with 5 execs (see below!) for all feature and TV writers!
To prepare you for this event, on Saturday, August 20 @ 10:00AM – 12:00PM PT, Roadmap Writers is bringing you one of the most acclaimed consultants in the industry to host an immersive and intensive 2 hour live online class.
Jen Grisanti is a world renowned consultant that has worked with executive producers, show runners and staff of over 15 primetime shows, is a three-year mentor in the CBS/Diversity Program and a panelist for the WGA and DGA.
Over the course of this 2-day event, you will learn directly from Jen Grisanti on how to master your pitch and then use the tools you've learned the following day to pitch to:
-RatPac Entertainment (The Revenant)
-Good Fear Management
-Abrams Artists
-Meridian Artists
-Unique Features
**Email joey@roadmapwriters.com for more information!
Your registration fee includes the Workshop + 3 Pitches the following day!
(2 hours)
$ 100.00