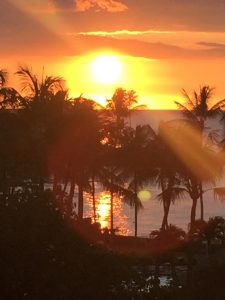 THE WAIKOLOA COMMUNITY DEVELOPMENT CORPORATION AND THE FAIRMONT ORCHID HOTEL CO-PRESENT THEIR VISITING ARTIST FILM WORKSHOP
What: Screenplay Writing for Television and Film
Where: The Fairmont Orchid Hotel, Kohala Coast, Big Island of Hawaii
When: Saturday, May 26 from 8:30 am to 4:30 pm
Who: Jennifer Grisanti is one of the leading consultants, mentors, coaches, and instructors in the field of screenplay writing and development for television and film. She has a story system that has led 52 of her clients to sell their pilots. Six of them went to series. Jen was a studio executive for 12 years at Spelling Television Inc. and CBS/Paramount. She staffed over 15 primetime shows in her career. Aaron Spelling was her mentor. She is also the writing instructor for Writers on the Verge at NBC, a blogger for The Huffington Post, the author of three books—her latest is Change Your Story: Change Your Life: A Path to Your Success–, and an international speaker who has participated in writing conferences, retreats, seminars, film festivals, and writing expos around the world.In this day long workshop, Jen will share the techniques, insights, and dynamics of her Story System, an approach that has led so many writers to success in the television and film arenas. Discussions will center on the elements of strong and compelling story structure and development, writing a script that sells, writing a TV pilot script or screenplay that can't be ignored, writing memorable characters and character dynamics, adding truth to your fiction, mastering the set up of your story through structure, setting up a season one arc, and Jen will offer plenty of time for career advice, insights into how and what Hollywood is looking for these days and how it works, and general Q&A from participants.
Why: This workshop is a must for those looking to develop their craft and skill in professional areas of screenplay writing for
television and film, those looking to "polish" their skills in these areas, or for those looking to better understand the craft of writing for film and television and how these skill sets relate to the overall production process.
How: Email John Mason at johnmasonkona@gmail.com for more information, questions, or to register. Give him a call at 808-464-4379. Check out also the web site of the Hawaii Island Film Office at www.hawaiiislandfilm.com. There is a small registration fee which will include light refreshments.