STORYWISE PODCAST, TELESEMINAR AND SEMINARS – TESTIMONIALS
TESTIMONIALS FOR STORYWISE PODCASTS
Jen Grisanti's podcasts shatter the wall between writers trying to break into "the biz" and those who have already made it there. If you're trying to find your voice, trying to stay motivated, or trying to overcome confidence issues, you're sure to find more than a handful of genuine breakthrough moments in each audio download. And if you're like me, at least one or two guests will have stories that specifically
resonate with your exact situation – whether you're just starting out in your writing or already shopping your work.
Jen's podcasts have given me more useful and inspiring information than I have received in courses that have cost hundreds of dollars. They have been instrumental in keeping me focused, motivated, and inspired and have convinced me again and again that the struggles, the doubts and fear are not only universal, but are a necessary part of the journey that can be accepted, channeled and overcome. What a comforting gift that lesson is, and how even more remarkable that it is given for free.
I can't thank you and your guests enough, Jen. This is an amazing service you're providing for all writers.
— Aaron Clow, Writer
I just wanted to send a quick email to let you know how your podcasts have helped me in my writing journey. I am a screenwriter from Down Under, Sydney to be precise, and was led to your podcasts through my thirst for understanding screen story and learning from your experiences and those of your guests.
The podcasts became addictive. I could not wait for the next one. The laptop would be hooked up to my amplifier and your opening and closing theme music would signal your arrival and departure. Even while freelancing in Berlin, Germany, I would play the next podcast and the neighbourhood would know what time it was. I would even groove to the opening music, bumping and grinding, floating my hands up and down like gangster rapper.
Over the years I worked on my own feature scripts and spec television episodes. The craft would develop, all with the firm goal of doing my time, approaching those 10,000 hours. I completed my original television pilot, developed a treatment for my next feature script, the whole time your podcasts were never far away. Six months later I found myself mentored by a writer on Australia's number one television drama and in three weeks I move to Los Angeles to develop my next feature script at the UCLA Professional Scriptwriting Program.
I think I've now past the 10,000 hours mark but moving to Los Angeles for the next year, developing my craft, will be all worth it and help move me towards my next 10,000. You just have to promise me to keep those podcasts going, because when I arrive, I want to hear that opening beat, move my hands up and down, bump and grind around the laptop.
Thank you so much Jen, I hope to catch up with you at one of your seminars, Friday night drinks, or conferences. I'll the the guy bumping and grinding in the background.
Kindest Regards

Will Kuether
TESTIMONIALS FROM THE STORYWISE TELESEMINAR
Jen Grisanti's master classes, seminars and consultations are packed with insight for the artist and the soul. True inspiration on a deeper level to be sure.  Jen's knowledge and experience are second to none, but more important, her belief & encouragement in the power of personal stories, teamed with proven formulas for successful screenwriting and storytelling make you roll up your sleeves and do the work. Jen is someone you need in your corner as you embark on the writer's journey.
Cynthia Palormo, Writer
Jen Grisanti is so much more than a writing instructor.  Because of Jen, I learned about my personal strengths and weaknesses.  From the business of pitching to story structure, and inspiration to final draft, Jen has given me a boost of self-esteem to become a better writer by becoming a better me.
Joe Wood, Writer
"Jen is a gracious and passionate instructor who really knows her stuff!  Her patience with and confidence in her students brings out their best work.  I've been working on my own writing portfolio off and on for 15 years and have never finished two scripts so quickly!  Jen helps her students to dig deep and pour their own humor and pathos onto the page.  Really, a magical course!"
Jessica Hill-Contaoi, Writer
I recently took Jen Grisanti's Online Writing for TV Pilot and Spec class. Now, I understand why Jen has so many success stories.  Jen teaches a pilot structure that is applicable and relevant, as well as focusing on the key elements that a TV pilot needs to succeed. Jen gets back to the core reasons for writing in the first place, and helps the writer develop his or her voice. She also encourages the development of a writing community that continues to offer support even after the class is over. For anyone writing a TV Pilot or Spec, I highly recommend Jen Grisanti.
Sarah Poynter, Actor and Screenwriter
After coming close to getting into the WB Writer's workshop, followed by striking out with all of the programs over the next few years of applying, I felt that I needed some direction to take my talent to the next level. Regardless of what happens with my next application attempts, I can say with full confidence that Jen's teleseminar and one-on-one consultation have helped me take that next step.
Her methods and philosophies have provided concrete strategies and thought processes to areas that I was just feeling my way through before. During both the teleseminar lessons and meeting with Jen in person to go over my spec, I came away with too many "light bulb" moments to count. I also have a much larger network now, since my fellow teleseminar students are very active in sharing information with each other.
Jen's methods of tapping into your emotions and experiences for story gems have given me tremendous confidence in my writing. As a surprise bonus, those methods have also improved my process as a standup comedian, along with my personal self-awareness. After the boost in confidence Jen's teleseminar and one-on-one consult provided, I can't wait to give her the good news once I accomplish that next big step toward my dream.
–Lerone Graham, Writer
No one can help you fill up that blank page with deep emotion, action, and adventure like Jen. Her notes are sharply insightful but they are also inspiring. She provides you with simple instructions to study the craft and simultaneously teaches you how to apply it to your own writing. Your story will weave seamlessly to a larger theme. Your characters will come alive with a broad range of emotion. And when you find that your belief in yourself has run dry, Jen whole-heartedly offers hers. Jen's encouragement and faith empowers you to realize your potential and visually see how good you are – on the page. The gratifications are immediate, both externally and internally. Under Jen's guidance you will be amazed at how much you can accomplish in just five weeks.
Devanshi Patel, Writer
Jen is the mentor every writer dreams of. She has a gentle way of guiding you to get what's in your mind onto the page, which for writers can be half the battle. Her Teleseminar is an amazing 5-week blueprint for writing a script you'll be proud of. If you're willing to do the work, I guarantee Jen will not only elevate your script to a higher level, she'll make you a better writer. Her keen insight into what makes stories work allows her to pinpoint those precise areas that need help. Jen's encouraging nature and the ease at which she pulls gold from your jumbled story make her a sort of story guru. Of all the screenwriting coaches and authors out there, Jen is definitely one you should not pass up.
Jennifer Zinone, TV Writer
The Jen Grisanti Spec & Pilot Teleseminars were the jump-start I needed on waning inspiration to organize my writing schedule and get an insider perspective on the key nuts and bolts of writing a spec and pilot. The classes offered a comprehensive look at both the business side as well as the craft of screenwriting, and her one-on-one attention was always professional and honest. Thank you for sharing your expertise with all of us hopeful up-and-comers!
Karin Maxey, TV Writer
Jen is an incredible guide through what can be a very confusing and turbulent journey.  She takes the complex craft of writing and breaks it down into its clearly defined pieces, honing on on the primal motivations that move characters and audiences alike.  Her notes and critique have pushed me to new levels with each project she's read.  As a baby writer in this business, having that helping hand in your corner makes a difference.  Jen is warm, welcoming, and balances the sharp insight of her notes with the peaceful zen of her presence.  Writing can be a daunting task, one that often places you in an emotionally vulnerable position.  With Jen at your side that task seems less extreme, and she makes you realize that getting to that vulnerable place is where you'll find the GOLD of your story.
Keto Shimizu, Writer
The Cape, NBC-Uni Writers on the Verge
I would definitely recommend the Jen Grisanti Pilot Teleseminar to aspiring writers who are, like myself, just diving into the world of writing for television.  I learned so much by witnessing other participants take their ideas from pitch to finished pilot in under six weeks with the expert advice from Ms. Grisanti.
Vanya Asher, Actor/Writer
You can spend hours upon hours, draft after draft, trying to bang your pilot into a predetermined shape or fit your story into a formula.  Jen's special talent as a teacher — really, as a spirit guide for story — is to show you how to find structure and emotion.  The elements of story that might look mechanical are right there inside your characters, and if you listen to them (and to her), you can let them out.
Michelle Chihara & Josh Joy Kamensky, NBC-Uni Writers on the Verge
Jen, This has been such an inspirational five weeks.  Your guidance through the narrative, spiritual and emotional process of writing a new pilot from scratch has helped me immensely – not only on this project – but also with all my work going forward.  Instead of being exhausted by the process, I am only energized!
Ryan Harris, Writer
There isn't anything like the expertise, personalized guidance and motivating services experienced while taking Jen's Spec Teleseminar.  Writing my spec under Jen's guidance was a remarkably positive experience.  With the helpful handouts, poignant tips, timely deadlines and invaluable notes, I couldn't help but to write my best sample, even far beyond my expectations.  Jen helped me to take my spec writing to the next level!  I unreservedly and highly recommend any of Jen's services for any writer who wants to further their writing and experience "Spec Writing" success!
Natasha TASH Gray, NBC-Uni Writers on the Verge
"Having worked with Jen both with private consults and attended her previous live Storywise seminars, I decided to take both her spec and original pilot ones and I can tell you, every session was fantastic and inspiring for me.  Jen helped me as a TV writer (still does) by approaching story from a holistic point of view and that is very unique.  Her groundbreaking method taught me tremendous insights into the process of storytelling, screenwriting, the business side of Television but primarily, to dig deeper into my own life-experience to pick those hidden gold nuggets that took my writing into a much higher level.  You owe it to yourself as a creative writer to go through "The Jen Grisanti Experience"…you'll never know what hit you!
Gustavo  A. Garzon, Writer/Director
I want to express immense gratitude for the impact you are having on my voice in writing. I NEVER would have even contemplated actually writing. I received your workbook and spoke with you; and as a result I have been actually begun writing, finding my voice, and my inner myth(I Love Joseph Cambell). It really is an ASSET to be finding my voice with this WEALTH of guidance I am receiving from your workbook, consultation, and blogs. I have never really felt so natural and driven since I started writing like this. Thank you! I also very much appreciate the encouragement on the phone and the path you have provided. I am looking forward to the Teleseminar and I believe you will see your impact you have had when read the revised script. Thank You Jen Grisanti!
Benjamin Yoblick
TESTIMONIALS FROM STORYWISE SEMINARS
This seminar is well worth it! There are hundreds of books you could read on story or just come to the seminar and learn it all at once! Jen had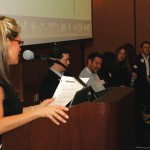 excellent insight on not only the structure of story but how to look inward on your own experiences to develop engaging, creative stories. She shares her industry experience, giving invaluable career tips and tricks. On top of it all, she brings in a panel of industry experts from agents, execs, producers and writers, allowing for you to get your personal questions answered. Jen inspired me to get my butt in gear and turn my ideas into a career!
Whitney Dunn – Writer/Editor
Thinking about writing a TV pilot? Then you really ought to think about taking this seminar. If you're new to the writing game, you'll receive info that will save you many hours of trial and error at the computer. If you have a few scripts (or staff jobs) under your belt, you will find yourself de-jaded as you're reminded of why you started writing in the first place. Yes, Jen does do an excellent job of arming you with the basics about writing that tricky bastard we call the pilot script. But then she goes further, showing you how to draw story from your experience and the way you see the world. Which…lucky us…is exactly what Hollywood is looking for! Jen also creates a sense of community, reminding you that though we've chosen a difficult career — we're all in it together.
Jonathan Robert Kaplan, Writer
NYPD Blue, JAG, lonelygirl15
"Jen Grisanti's Storywise TV Pitch and Pilot Seminar is the REAL thing. Jen's experience as a TV executive, coupled with her firm command on the subject and most importantly, her passionate love for STORY and personal focus on the writer's hidden world make the seminar an amazing journey into the complex craft of Television writing while opening the gates to the path of self-discovery. Without any doubts, the best TV and Film seminar/course I've ever taken in my life! Well done, Jen!"
Gustavo A Garzon, Writer/ Director
"I took Jen's first Storywise Seminar and was inspired. Using what she taught, I wrote a script from a place of joy and freedom. It was an amazing feeling. I just had the privilege of attending Jen's Storywise Pitch and Pilot Seminar and was blown away. No one knows what Jen knows and she is a master communicator. During the lecture I experienced two "aha" moments and have already begun to apply them to my pilot script. Jen Grisanti is a gift to us all.."
Jim Bontempo
Co-Writer of the award winning play: "A Place at Forest Lawn"
"Jen's Pitch and Pilot Seminar was not only informative, as she definitely knows her stuff, but her passion for story and helping writers understand what makes a story great is palpable as she guides you through the steps. Her encouragement, warmth and honesty is quite refreshing in a town that can be quite unwelcoming, cynical and overwhelming at times, especially for a new writer such as myself."
Pamela Brown, Writer
"Jen doesn't tell you what to do, she makes you think and understand what you need to do. You come to your own conclusions and that's how you learn. Hers are not simple notes, they are deep reasoning. Her thoughts are open, and so are her mind and heart. I'm a HUGE fan! -can you tell?"
Paco Bordy, Writer
FADE IN:
INT. CONFERENCE ROOM – DAY
An anxious and eclectic mix of students from all walks of life chat amongst themselves. Nervous anticipation spices their interactions.
And then she enters — JEN GRISANTI, (40s), soulful eyes, delightfully petite, and in control —
She takes the stage, pauses a minute…is it nervousness? No. Composure. She proceeds to tell two touching stories about how she got to the business. And from the moment she revealed a personal crisis that she triumphed over, she had the class. And me.
But then she stunned the class full of world-weary seminar-vets when she asked this one question…
— sum up your life in one logline. This caused a murmuring that skittered across the audience as they realized the significance of this exercise. It meant that if you reduce yourself, a three dimensional person to your core struggle, you could then use that core struggle to enhance your characters.
Simple. Subtle. Satisfying.
FADE OUT
-Hey Jen thanks again!
Kamafi Adio Byrd
Funk Prophat FIlms
Jennifer Grisanti brings an abundance of hard-to-get information and advice on the business and technique of writing for screen and television; all delivered with her extremely attractive and approachable personality. Attended by already-successful and newbie writers alike, Grisanti's Storywise Seminar attracts some of the industry's top executives as speakers, which makes this a must-attend event for both trade craft and networking. I highly recommend this for both professionals and newcomers.
Gato Scatena – VP Marketing – InkTip.com
Jennifer Grisanti's "Storywise Seminar" is a gift no writer, director or creative executive should deny themselves. The inaugural session was inspiring, moving, uplifting, and life affirming. Jen's approach to the work is intelligent, thoughtful and real. The guest speakers were gracious, informative and truly interested in us. The day was, in a word, amazing and I advise anyone who is serious about their craft to get on the list for the next seminar!
James Bontempo – Co-Writer of the Award Winning play, "A Place at Forest Lawn"
With the "Storywise Seminar," Jen unlocks key elements to the process of scriptwriting. In just one day, she presents a rich array of essential materials, guiding the writer through definitive discoveries about our stories. Her selection of engaging industry professionals revealed inside tips and tales, and her workbook offers a toolbox full of resources. This event uncovers Jen's unique approach, inspiring and motivating the writer to transform the written page.
Roberta Cruger – Writer
Jen's first story seminar set the bar high for her future seminars: it was tremendous! She brought the day-long event to life with the story of her journey in this business and by reminding us of our own unique inspiration that brings us to the page day in and day out. Jen then infused the day with crucial information about the creative challenges and rewards of being a professional writer and director; and the fabulous TV and film executives she brought in shared generously their insight about what it takes to work in this industry. Jen — a passionate advocate for stories and those of us who tell them — truly delivers.
Jude Roth – Writer, PAGE int'l finalist, Slamdance & Cinestory semifinalist, Austin second rounder
To participate as a sponsor of this existing and informational seminar, call Joann at 213-369-1510 or via e-mail at jklonowski@verizon.net.