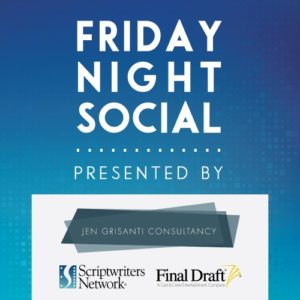 Event Date: Friday, May 4, 2018 || Starts at 6:30 pm  || Co-sponsoring with Jennifer Grisanti and Final Draft.
**UPDATE**LOCATION CHANGE – PLEASE CHECK LOCATION BELOW
Friday Night Social is a networking group that meets the first Friday of every month. It started as a way for TV and feature writers to meet one another and has evolved into so much more. This is a great way to "Network". Plan on meeting people from different areas and levels in the entertainment industry.
This networking event is on a first name basis and everyone will receive a name tag with their first name only, this is best for the more established professional entertainers to maintain their anonymity which will allow them to network as well.

IMPORTANT:
Please REGISTER before 10:00 pm on Thursday, May 3, 2018

ADMISSION:
FREE to attend.  Please pay for your own food, cocktails & parking. We ask everyone to purchase one drink, minimum, please.
***$1 Cocktail is available through the HOOCH app, with the invitation code: "SCRIPTWRITERS". You can download the app prior to arrival. Roof Deck Lounge will have 3 different drink offers and the attendees using the HOOCH app can pick and redeem the drink of choice by showing the bartender. (see more info below)
~Check in with us at the entrance to receive your name tag.
MORE INFORMATION:
The Moment Hotel sets the scene for the Instagram-worth rooftop dining and socializing. Enjoy 2,000 square feet of outdoor space overlooking Sunset Blvd and the Hollywood Hills. The Roofdeck Lounge is the perfect spot for intimate gatherings, a pre-screening reception, private launch party, or any occasion that requires an elevated level of cool. Sip on craft beer or signature cocktails and nibble on small gourmet plates while hanging out with your friends and colleagues in our stylish open-air setting.
We also dish up breakfast and dinner items to either fuel you up or help you unwind from the day. The center bar and comfortable lounge seating invite you to mingle with fellow guests before a night out or to catch up on work during the day. Take in the stunning view of the city as you drink and dine under the sun.
Join us at The Moment Hotel's Roof Deck Lounge:
Below: Photos from previous Friday Night events: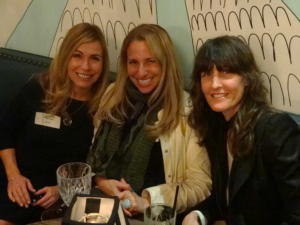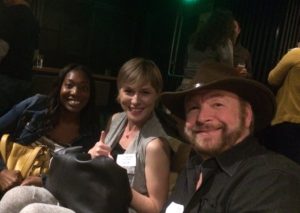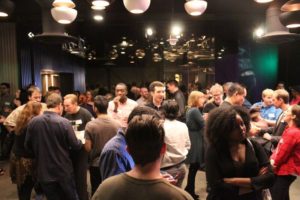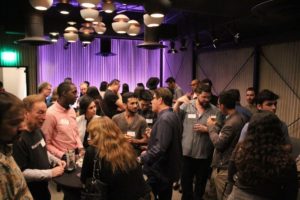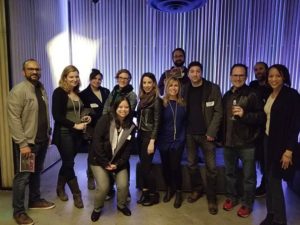 ---
Event starts at 6:30 pm – Ends at 9:30 pm
LOCATION:
The Moment Hotel's Roof Deck Lounge
7370 Sunset Blvd, Los Angeles, CA 90046
Phone # 323-822-5030
PARKING:
Valet parking is $15-$25.
Plenty of additional parking close to location.