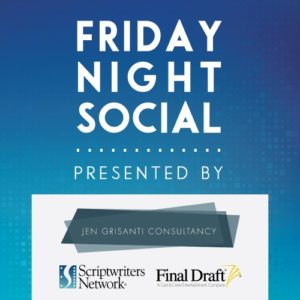 Event Date: Friday, May 4, 2018 || Starts at 6:30 pm  || Co-sponsoring with Jennifer Grisanti and Final Draft.
Friday Night Social is a networking group that meets the first Friday of every month. It started as a way for TV and feature writers to meet one another and has evolved into so much more. This is a great way to "Network". Plan on meeting people from different areas and levels in the entertainment industry.
This networking event is on a first name basis and everyone will receive a name tag with their first name only, this is best for the more established professional entertainers to maintain their anonymity which will allow them to network as well.

IMPORTANT:
Please REGISTER before 10:00 pm on Thursday, May 3, 2018

ADMISSION:
FREE to attend.  Please pay for your own food, cocktails & parking. We ask everyone to purchase one drink, minimum, please.
***$1 Cocktail is available through the HOOCH app, with the invitation code: "FREE". You can download the app prior to arrival. Ever Bar will have 3 different drink offers and the attendees using the HOOCH app can pick and redeem the drink of choice by showing the bartender. (see more info below)
~Check in with us at the entrance to receive your name tag.
MORE INFORMATION:
We raise the bar in this casually stylish social hub where the neighborhood gathers over drinks and snacks. With floor-to-ceiling windows overlooking the intersection of Argyle and Yucca, the Capitol Records building, and downtown Hollywood, Ever Bar transforms throughout the day; from laidback living room to social bar scene to all-day work hub and after-hours mecca for fashion, music, and other cultural happenings.
Enjoy an eclectic cocktail list with enough variety to satisfy all palates – from our culinary driven Riffs on classics to our Re-issued plays on nostalgic drinks you're sure to be turned on to something new and unexpected. In addition to local wines and craft beers on tap, the cocktail list is complimented by a bar bites menu that features such staples as a Duck Confit Monkey Bread, Buffalo Cauliflower, and Fizzy Melon with Prosciutto.
Join us at The Kimpton Everly Hotel's Ever Bar:
Below: Photos from previous Friday Night events:
---
Event starts at 6:30 pm – Ends at 9:30 pm
LOCATION:
The Kimpton Everly Hotel's Ever Bar
1800 Argyle Avenue, Los Angeles, CA 90028
Phone # (213) 279-3532
PARKING:
Valet/Building parking is $15-$20.
Additional parking lots close to location